For so many children in our world, the essential ingredients of childhood are displaced by the devastating trauma of war, conflict, and disasters. A healthy, playful childhood is simply out of reach. After seeing the heart breaking effects of trauma around the world, we were moved to act. Taking inspiration from the comfort our own stuffed animals brought us, we designed a new kind of teddy bear, custom built to provide the psychological healing and comfort that vulnerable kids need.
To create the most comforting teddy bear around, we've worked with the world's foremost authorities on child psychology and tested designs in some of the harshest places on earth. Today, Thready bears are comforting thousands of children around the world, from inner city Chicago to refugee camps bordering Syria.
We're proud that each and every Thready bear is handmade in the West Bank by at-risk women, providing them with valuable job training and their families with a sustainable income.
Our giving partners are the best around! Award-winning nonprofits, like the Karam foundation, ensure that Threadies make it into the hands of children in the greatest need.
Each donated Thready bear comes with a psychological first aid kit. The "coping cards" inside teach children and their parents proven trauma coping techniques.
By using Threadies kits, child psychologists in schools and refugee camps are able to scale their reach to many more children than they otherwise could.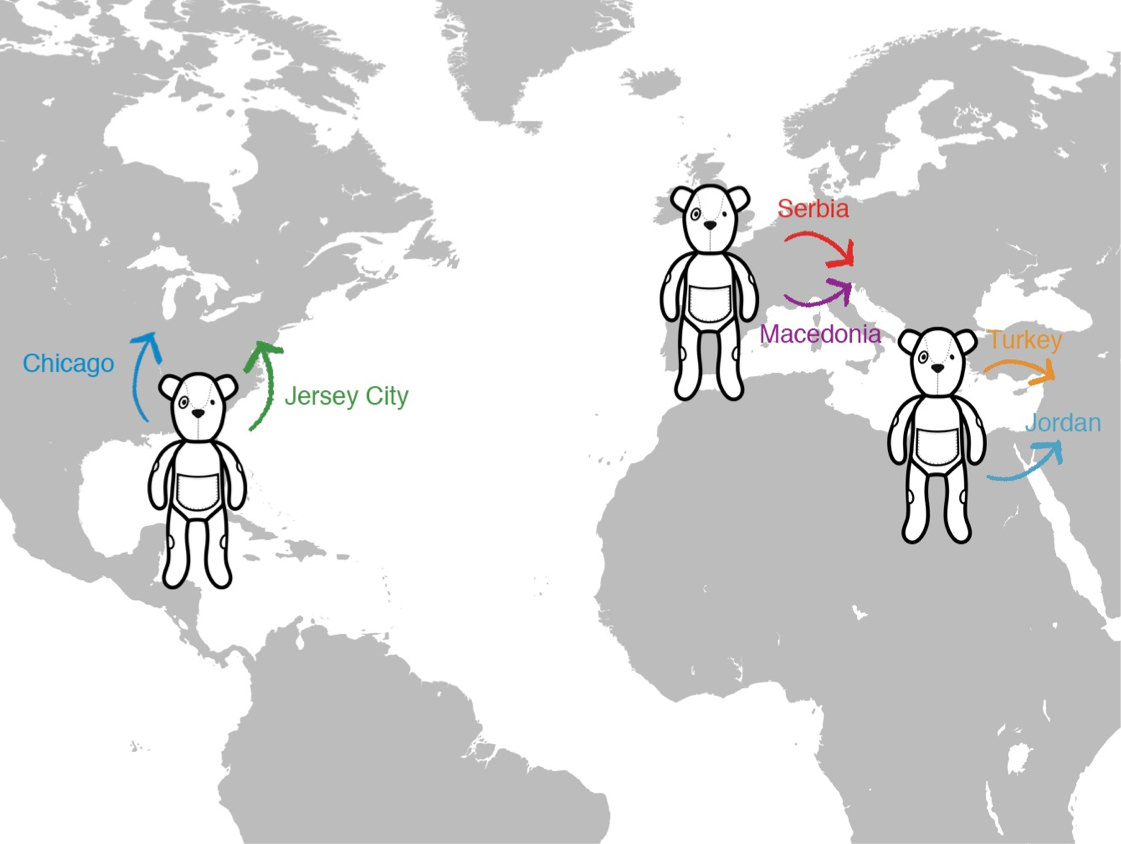 Steve Lehmann — Steve is a world traveler with a heart for the most vulnerable, especially refugees. His work in the humanitarian sector has carried him to far off places around the globe—Rwanda, Kenya, Tanzania, Haiti, Jordan—as well as to neighborhoods closer to his home in Chicago. Steve has a Master's in business from Notre Dame and a Bachelor's in engineering from Valparaiso University, where he and Andrew became best friends and were roommates for four years.

Andrew Jones — Andrew is an entrepreneur with experience in both the non-profit and for-profit sectors. With a degree in International Economics & Cultural Affairs from Valparaiso University, every venture he's participated in has used business as a force for good. In addition to Threadies, he and his wife Kate own Fair and Square Imports, a retail store that sells fair trade products benefiting disadvantaged artisans around the world. His joy lies in bringing handmade items to market and seeing the lives of producers transformed through trade.
In September 2015 we launched Threadies with a Kickstarter campaign, and thanks to some incredible supporters, we raised 160% of our goal. Check out our campaign video below.